Mar 5, 2018
1:00PM - 2:00PM
Brighten Your Business's Beacon(TM) - Monthly Webinar
Free Webinar - Eventbrite Registration Link Below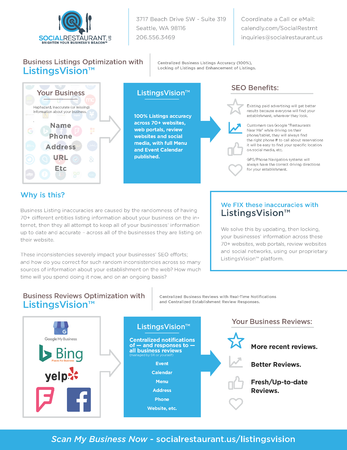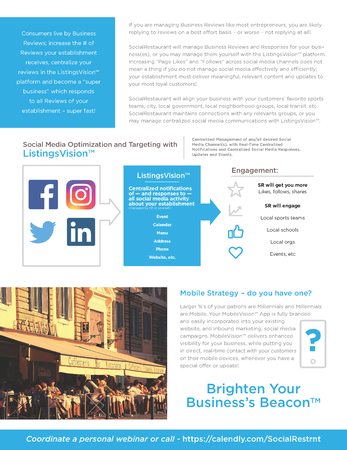 ListingsVision™ is not just about 100% accurate Business Listings:
1. Business Reviews consolidation and centralized management.
2. Social Media consolidation and centralized management.
3. Creation of missing Business Page(s).
4. Online Menu & Event Calendar creation, listing, and management - everywhere online.
5. MobileVision™: Millenials are all about mobile engagement - we make this happen for small/mid-sized businesses like yours.
More Info
Mar 22, 2018
5:30PM - 7:30PM
WSEA Chamber of Commerce: After Hours in March at West 5
After Hours Networking

It's time to celebrate! West 5 is 15 years old!
Join the West Seattle Chamber of Commerce for our monthly After Hours. This is your time to connect with others interested in the business community. You will find persons for all size businesses from large to home base, owners to managers to retired associates. Connecting with these individuals enables you to grow your network of contacts. You will also be gathering information so you can provide them referrals and they will be learning more about your business so they can provide you referrals.
More Info
May 1, 2018
12:00PM
Annual Westside Awards Breakfast - Presenting Sponsor Quail Park Memory Care Residences of WSEA
WSEA Chamber of Commerce Awards Breakfast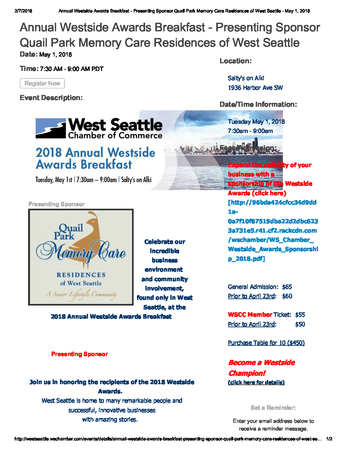 Celebrate our incredible business environment and community involvement, found only in West Seattle, at the 2018 Annual Westside Awards Breakfast
Join us in honoring the recipients of the 2018 Westside Awards.
West Seattle is home to many remarkable people and successful, innovative businesses
with amazing stories.
Business of the Year
Emerging Business of the Year
Not-for-Profit of the Year
Westsider of the Year
More Info